Are you fit for skiing?
Skiing places different demands on the body compared to most other sports.  How are you preparing for the slopes?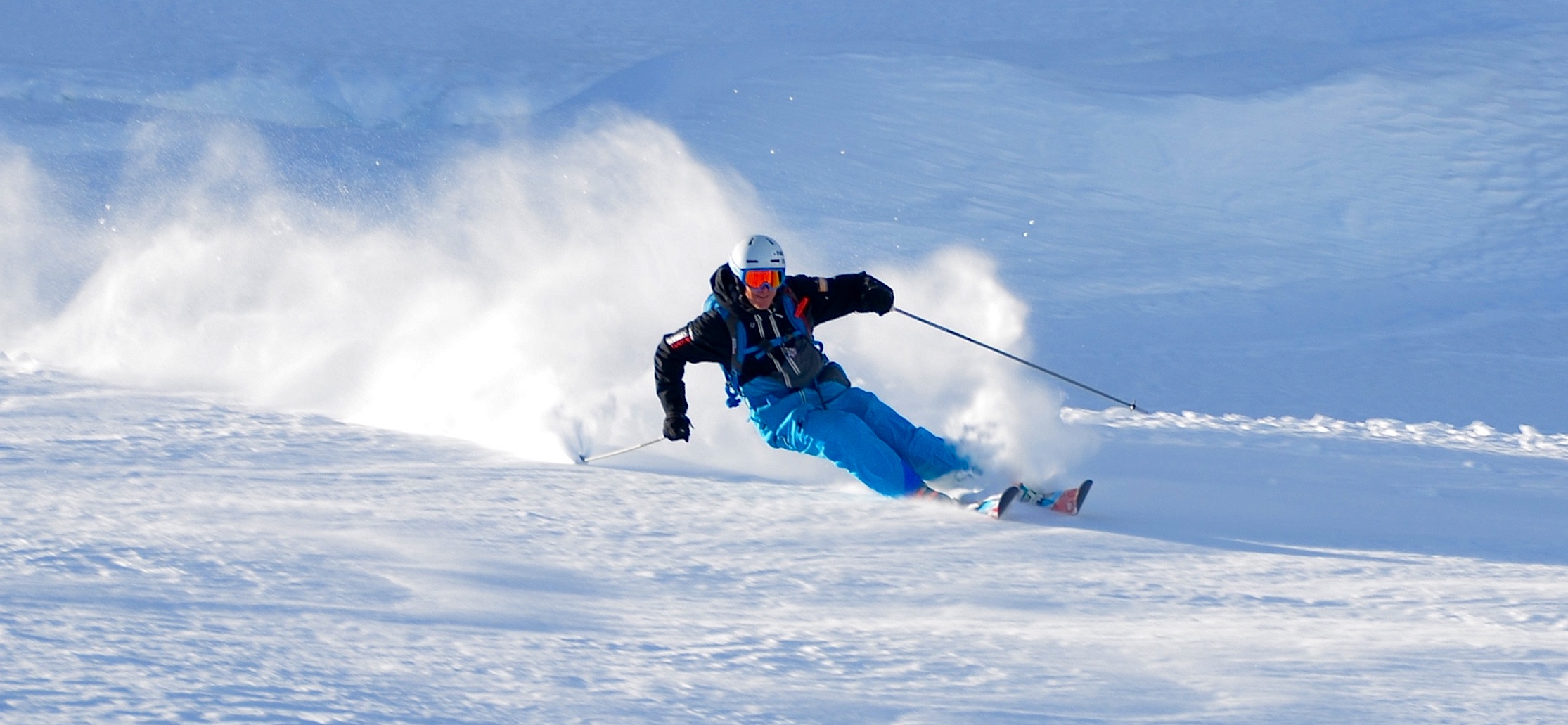 "Ski fitness" is a big deciding factor between having an enjoyable first day back on the mountain, or a painful one. Have you ever wondered why, after the pre-season running and biking, do the legs burn after just one ski run?
It has to be said:  "There is no better physical training for skiing, than skiing itself."  So, unless you can ski year round, you are going to need another solution.
Does cross training prepare us for skiing?
Cross training is good for general fitness and helps when the ski season comes. However, sports like running, cycling, swimming and tennis are not on their own, the best preparation for skiing. Sure, these sports can get you fit, but this kind of training won't stop the skiing muscles from burning when you hit the slopes again.  This is because skiing places some different muscular demands on the body compared to a lot of other sports.
So, how do the muscles work when we ski?
The biggest difference is the way the muscles contract.  Most sports demand mainly concentric muscular contractions. Skiing requires a lot of eccentric contractions. Eccentric contractions occur when the muscle lengthens as it contracts. Where-as concentric contractions cause the muscle to shorten as it contracts.
Skiing requires the muscles to contract eccentrically and concentrically.  A skier needs to mix both types of muscle strength in order to achieve optimum pressure contact with the snow.  Eccentric strength absorbs force and concentric strength creates force.
A good example is skiing moguls.  The skier must absorb the force of hitting the mogul using eccentric strength, and then quickly use concentric strength to push the skis back into contact with the snow in the rut.  This is just one example in skiing and there are many.  Skiing demands a blend of both types of strength.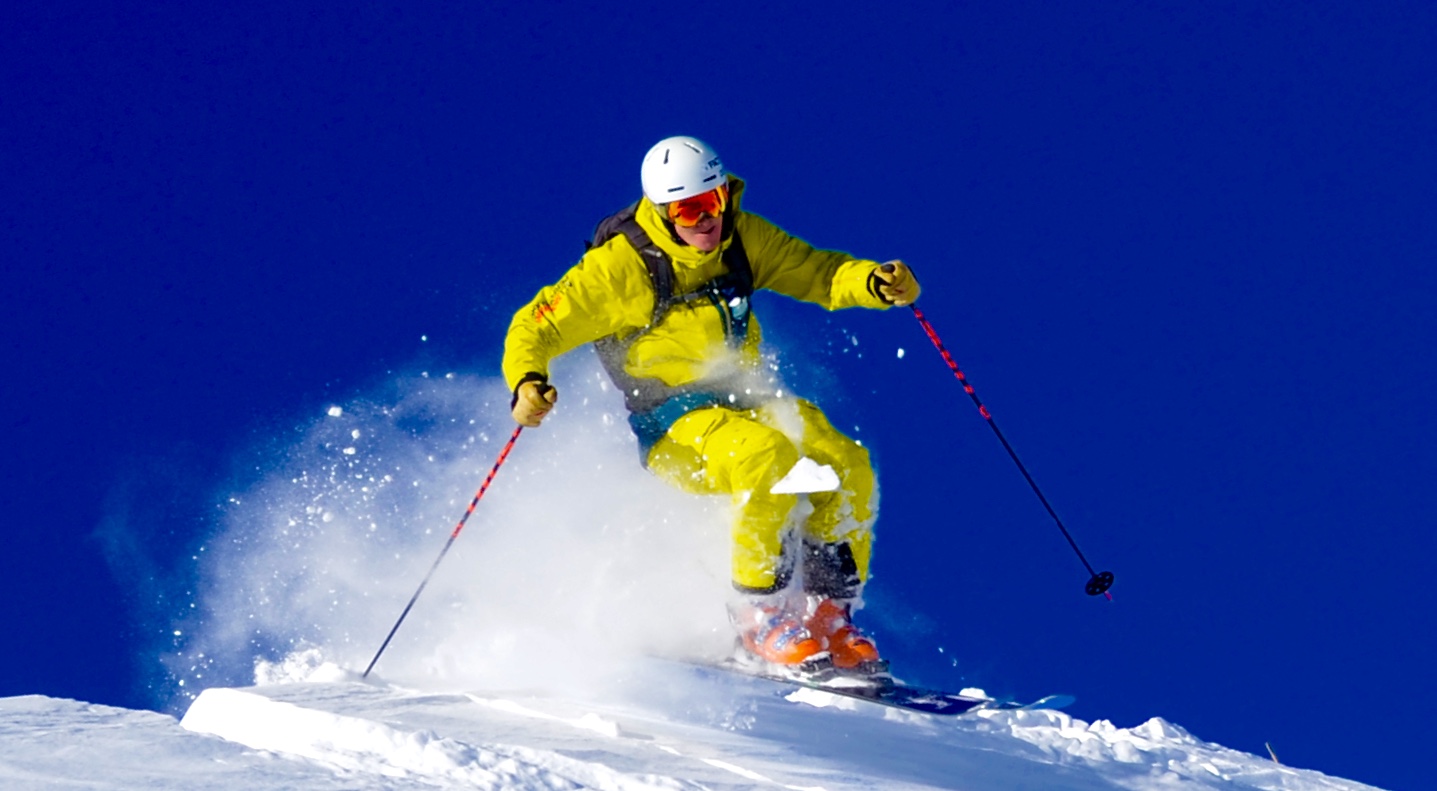 How to prepare
specifically

for skiing in the off season.

To hit the slopes in top form, we need training exercises to simulate skiing movements using a mix of eccentric and concentric muscular strength.

Below are 3 skiing specific exercises.  I'll provide 3 more next month.  Add these exercises to your fitness training and you will be ready to shred on the first snowfall.  These dry-land skiing exercises can be done at home or almost anywhere and without weights or equipment making them easy to fit into your daily schedule.
This month's dry-land ski fitness training exercises.
Please Note:
Before starting any exercise routine, you should seek advice of a doctor or qualified health care professional.
Ensure the muscles are warmed up well before performing these exercises.
Be careful to perform them correctly, as poorly performed lunges and squats can cause injury.
Be careful not to over train. If you are not already doing these exercises, it's likely the muscles will be a little sore the next day.
Remember to stretch directly after, whilst the muscles are still warm.  Flexibility also reduces the risk of injury.
Lunges — Place hands behind the head.  Take a large step forward with the left foot.  Keeping the back straight, drop down until the right knee almost touches the ground.  Stand up moving the left foot back to it's initial position.   Alternate legs and repeat in sets of 10 -30 reps.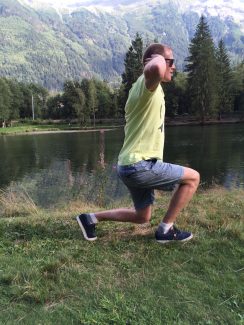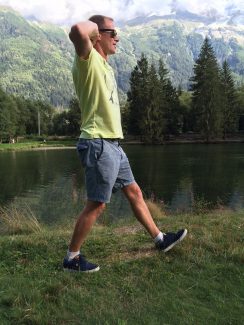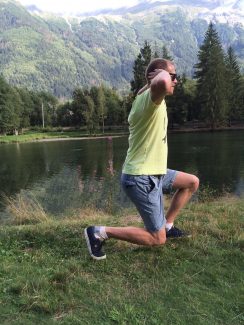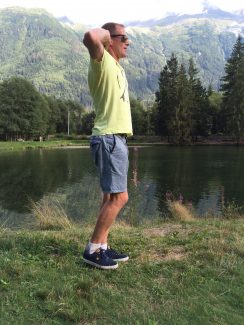 Squats — Place feet around shoulder width apart.  Put hands behind the head.  This helps keep the back straight and chest out.  Squat down until the thighs are parallel with the floor.  Stand up feeling the legs and core working.  Repeat in sets of 10 – 30 reps.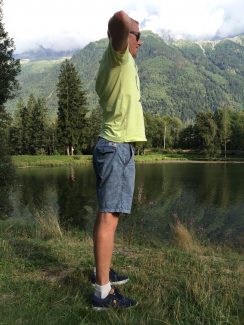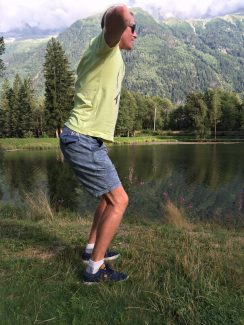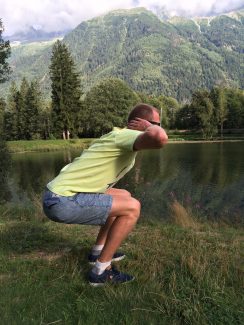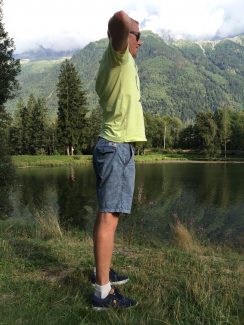 Squat jumps — Same as the squats but with hands to the side for balance. Include powerful jumps with smooth absorbtions on landing.  The jumping improves concentric strength and absorbing the landings will improve eccentric strength.  Repeat in sets of 10 – 30 reps.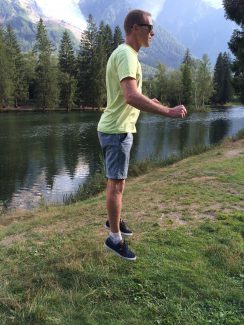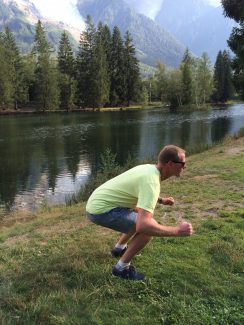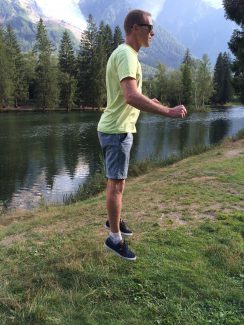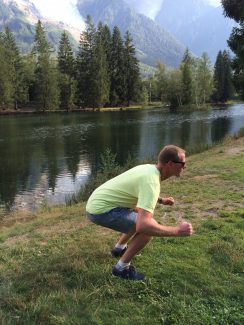 Read more about How to get fit for skiing…more exercises with some added tasks to help improve skiing technique, as well as fitness.
Article by Mark Gear   BASI level 4 ski instructor.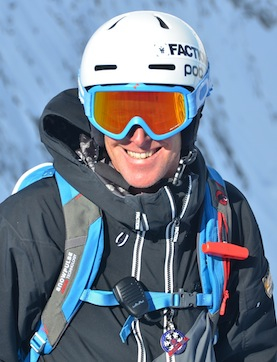 Join Mark for a pre-season performance skiing course this Autumn on some of Europes highest and snow-sure glacier ski areas.  Join Mark for  all-mountain and off-piste ski courses in Chamonix, France.
Read more tips on ski fitness and training exercises for skiing.
SKI LEVEL FINDER PRICES BOOK SKI COURSES BOOK PRIVATE LESSONS