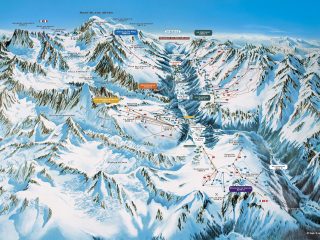 About this Chamonix piste map and other info about skiing in the Chamonix valley.
This Chamonix piste map shows the valley as a whole and is an artists impression of the Chamonix valley and ski areas. The ski area seen in the forefront on the map is Le Tour. This is great for beginers and intermediate skiers alike and is also a great ski area for expert skiers to practice high speed carving on the wide open well groomed pistes. The back side chair lift offers access to amazing off piste descents into Switzerland.
If you follow up the left of the Chamonix valley the next ski area on the map is the huge mountain of Les Grands Montets. This ski area is a mecca for hardcore skiers. Extreme ski movies have been shot here. The mountain is vast and generally steeper than the other Chamonix ski areas offering glacier skiing at the very top and open bowls and gullys running into the treeline where some great tree skiing can be found.
Then towards Mont Blanc on the map is the Aiguile du Midi. This is the highest lift in the Chamonix valley at 3842m. This lift is used to ski the Chamonix and world famous valley Blanche. This is all completley off piste and on a glacier making it a serious mountain intinery. A guide is necessary – but not compulsory.
At the far end of the Chamonix piste map you can see the Les Houches ski area. This version of the Chamonix piste map does not give Les Houches justice, making it look smaller than it really is, there are actually around 90km of linked ski runs in Les Houches and its great skkiing in the trees.
Coming back along the Chamonix valley on the piste map, to the right you can see the ski areas of Le Brévent and La Flégère. These ski areas are more local to Chamonix town. These ski areas are south facing and linked together offering amazing on piste and off piste skiing for all levels. Watch out if you are skiing off piste here in the afternoons as avalanches are frequent when the warm sun hits the slopes.
All together this Chamonix piste map gives someone who has never skied the Chamonix valley a reasonably good idea of what it looks like. However each ski area has its own map giving a more detailed impression of the mountains, pistes and Chamonix ski areas. These Chamonix maps are available at the bottom of each ski area at the ticket desks.
Ski Chamonix With All Mountain Performance
Chamonix piste map and info for the Chamonix valley map, for skiers and snowboarders visiting the valley.