ADVANCED OFF-PISTE SKI COURSES – MAXIMIZE YOUR POTENTIAL!
Off piste ski courses for advanced skiers in Chamonix, France.
This off-piste performance ski course is ideal for skiers of levels 5 – 6 using this level finder.
All ski courses are delivered by top level international ski instructor, Mark Gear.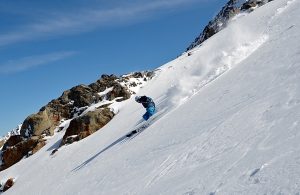 The advanced ski course is for advanced level skiers who already have the skills required to ski most off-piste snow conditions. Typically, you can get around ok off-piste, but are looking to consolidate & improve your general off-piste skiing.
Off-piste skiing offers great variety of snow types and terrain. For this reason, we help develop your skiing in a versatile and natural way that will encourage better adaptability when skiing more challenging conditions.
The focus of the advanced level ski course is on improving your personal, all-mountain skiing skills. This is done in a practical way and mostly away from the groomed slopes.  You will receive plenty of useful tips to teach you how to adapt your skiing. This will help you to cope better with the challenges of all-mountain and off-piste skiing.
Your skiing will improve during the course as you discover how your skis react to the movements and adjustments you make. As you progress, so will your confidence allowing you to ski more challenging snow and terrain.
During the advanced ski courses, we will ski some of Chamonix's best off piste and backcountry terrain accessible by the ski lifts. Sometimes, a short hike to the very top can provide us with a better descent.
Understand the most up to date skiing techniques and free-skiing tactics. You will receive a personalised ski coaching approach with daily video feedback in a small group of 6 skiers maximum.
Book Ski Courses
On advanced ski courses, the following aspects of your skiing are developed:
Personal performance awareness
Refinement of Steering movements
Off-piste and freeride skills
Terrain, snow and line tactics
Technical and tactical skills for skiing steeper slopes
Technical and tactical skills for skiing gullies & couloirs
Avalanche and backcountry mountain awareness
5 day, 3 day and 2 day weekend ski courses are available.
The 2 day weekend ski courses and 3 day ski courses are condensed versions of our 5 day courses. The aim of the weekend and 3 day courses is to cover the major topics of the 5 day skiing course using a maximum activity approach. That means lots of great skiing with useful tips and tactics for dealing with different snow and terrain.
Ski course prices
5 Day Ski Course = 890€ Per Person (course fee only).
3 Day Ski Course = 590€ Per Person (course fee only).

2 Day Weekend Ski Course = 400€ Per Person (course fee only).
Advanced ski course dates for season 2023/2024.
Dec 18th – Dec 22nd (5 day ski course)   – Places Available 
Jan 1st – Jan 5th  (5 day ski course) – 1 Place Left
Jan 22nd – Jan 26th  (5 day ski course) – Course Full
Feb 5th – Feb 7th  (3 day ski course) – Places Available
Feb 26th – Mar 1st  (5 day ski course) – Places Available
Mar 11th – Mar 15th  (5 day ski course) – Places Available 
Mar 30th  – Mar 31st (2 day ski course) – Places Available
Apr 13th  – Apr 14th  (2 day ski course) – Places Available
What's included in the course fee
Full days of ski coaching and guiding (9am – 3:45pm)
Daily video analysis and feedback after skiing (weather permitting filming)
Minibus transport from Chamonix town to the surrounding ski areas and back each day. Pick-ups and drop-offs are included within the area shown on this map. If our minibus is not available, due to unforeseen circumstances, like a breakdown or too much snow; then, the local public transport (bus service or train) will be used instead.
Further ski course details /Equipment/Lift pass/Insurance (Not included in the course fee)
Travel and Accommodation – This is not included in the course fee and is arranged by the clients. It's best to book somewhere in the town of Chamonix to benefit from our private minibus transport to and from the different ski areas each day. Our recommendations page shows some great options.
Equipment needed – Off Piste/All-Mountain skis (If the snow is deep off-piste, 95-110mm underfoot / if the snow is compacted, 85-100mm underfoot). Alpine ski equipment is recommended but can be touring.  Transceiver, shovel and probe in a suitable backpack with chest and waist straps. A helmet is recommended. There are a number of rental shops in resort with this equipment if you don't have your own.
Insurance – Winter sports travel with off piste rescue insurance for being guided/instructed by an appropriately qualified instructor/guide on all terrain. Additional rescue insurance can be purchased with your lift pass at the ticket office). Please also ensure your insurance covers cancelation costs due to illness, injury or any other unforeseen circumstances. Some insurance covers lift closures due to adverse weather conditions or other unforeseen circumstances. We are not responsible for lift closures due to any circumstances. Please ensure you have read and understood our booking conditions and contact us if you have any questions.
Lift Pass – The Mont Blanc Unlimited Ski Pass is needed for this ski course. This pass covers every lift in Chamonix and some other close by resorts.  This gives us total flexibility to respond to changes in weather and follow the best snow conditions available in the whole Mt blanc area.
SKI LEVEL FINDER PRICES BOOK SKI COURSES BOOK PRIVATE LESSONS