What is all-mountain skiing? How to be a better all-mountain skier by top level ski instructor, Mark Gear.
I'm Mark and I run All Mountain Performance in Chamonix. I've been teaching all-mountain skiing for many years and run over 20 ski courses per season for intermediate, advanced and expert level skiers. Here's some of my thoughts on all-mountain skiing, and some of my top tips for tackling the whole mountain.

What is an all-mountain skier?
In my opinion, an all-mountain skier can ski the whole mountain, in any conditions and on any terrain. However, being able to do this with real control, versatility and expression is a less common thing and what I would call the true hallmark of the accomplished all-mountain skier.
Why learn to ski the whole mountain?
All-mountain skiing – the ultimate goal of most skiers.
All-mountain skiing is probably the ultimate goal of most recreational skiers. To be able to ski the whole mountain with a skillful performance is like the holy grail for the majority of skiers.
It's also a natural progression obtained after lots of practice, experience and learning through trial and error. Once acheived though, the skier senses a profound connection with the mountain. This produces a fantastic feeling of freedom with the ability to comfortably ski and enjoy anything the mountain throws your way.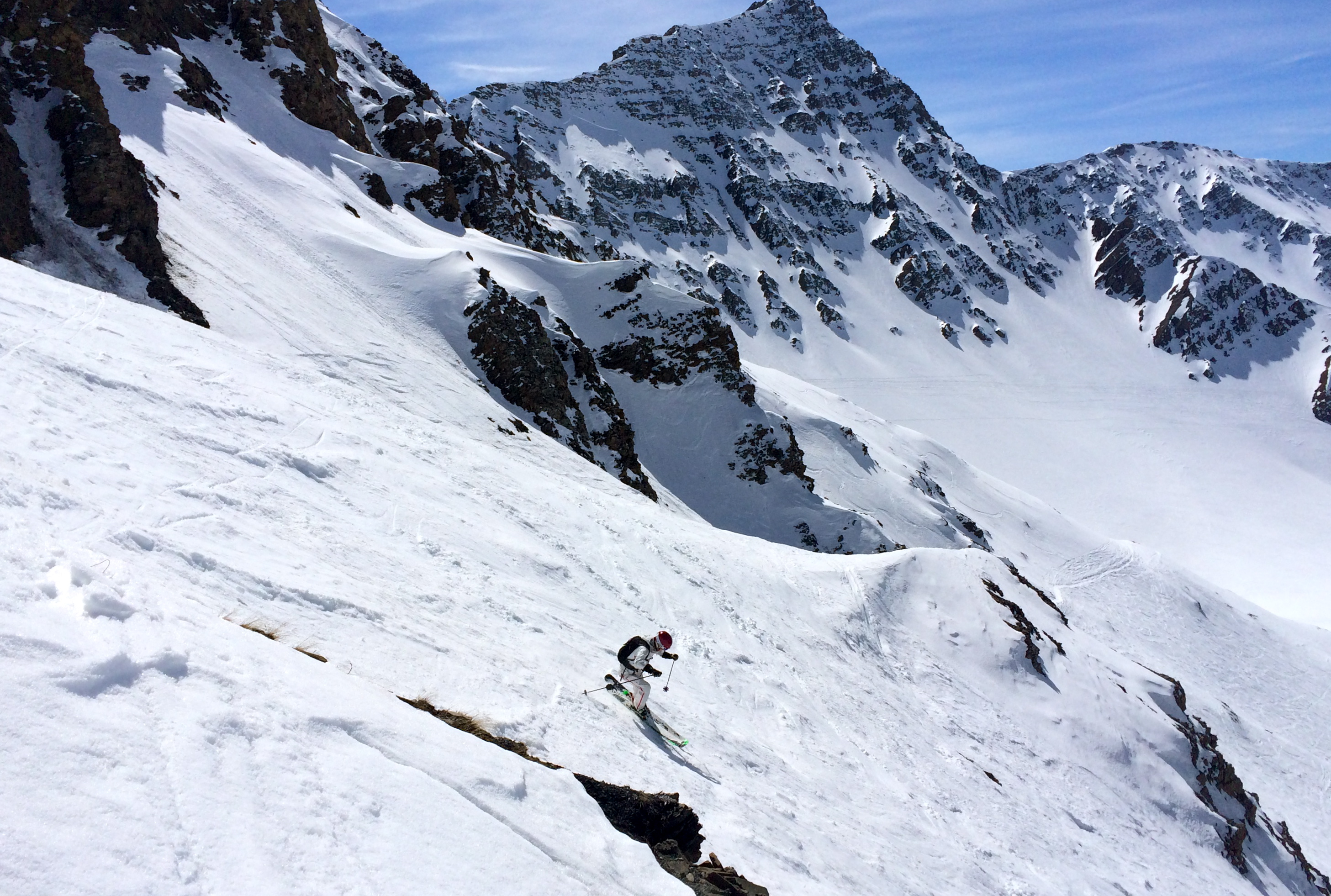 All-mountain skiing is a common goal.
In my long career as a professional ski teacher, having coached thousands of skiers from novice to expert, inlcuding professional instructors, I've noticed some things most skiers have in common.
Firstly, it's all about having fun! and, a lot of that fun comes from improving. It's also rare to find someone who doesn't aspire to improve. However some people do hit the dreaded "plateau" and feel they are stuck.
It's also a natural human trait to get bored if we do the same thing all the time. For example, if we never progess off the red run, we could easily get bored, stagnate, and loose the fun aspect, which is the primary reason for doing the sport in the first place. Therefore, there seems to be a common yearn to learn the next thing, which helps keeps the fun alive.
Whether it's the novice wanting to tackle that first blue run, or the expert aiming to master a steep off-piste face. Whatever the level, most skiers share this common goal and would rather not be restricted in what and where they can ski. Instead, people prefer to expand their horizons and ultimately share a goal of eventualy becoming an accomplished all-mountain skier.
Here's 5 of my top tips for better all-mountain skiing.
All-mountain skiing tip 1: Goal setting.

It's important to set achievable goals. Goals should be aligned with where you are in your skiing progression. For example: If you would like to learn to ski the bumps for the first time, be sure to start with small bumps first, and not difficult, big bumps that could knock your confidence. Once a realistic goal is set, it's all about sound technique and practice. It's also wise to book a ski instructor from time to time to help the goal setting process and get professional help.
All-mountain skiing tip 2: Versatility.
It's important to develop versatility in your skiing. This means to vary the size, speed and type of your turns. Aim to be able to ski as many different ways as possible and develop a repetoire of skills. If you always ski the same way, you will lack in versatility which can hinder your ability to ski the whole mountain. Mountains are such variable places. Weather, slope gradient, terrain shape, snow depth and snow texture are constantly on the change as we move around the mountains. The versatile skier will prevail.
All-mountain skiing tip 3: Ski in the now.
Skiing is a sport that requires us to react in the moment. Therefore, we must learn to set our attention and focus in the present moment whilst skiing. To get the feel for this, start focusing on what your skis are doing at each moment in time, instead of for example, what your skis just did. For example: Are they gripping right now or sliding right now?  Are they wide apart right now, or are they closer together. Simply becoming more aware of what is going on in the present will help your ability to correct and make quicker adjustments as you ski. This is skiing in the now and is a much more mindful way to ski. Too much past or future focus can distract us from what's really happening in the present. Just ski and react naturally in the moment.
All-mountain skiing tip 4: Feel for the snow.
There's a lot to be said for developing snow feel. If you are skiing in the now, you will start to feel certain qualities of the snow, for example, it's texture and depth. Does the snow feel firm and grippy, or firm and icy? Or is the snow soft, wet or deeper and causing more resistance against the skis? Often, you can feel a combination of these snow conditions in one run. If you feel and tune into these sometimes subtle changes as they happen, you will be better able to make the subtle adjustments needed to acheive your desired outcomes.
All-mountain skiing tip 5: Match your skiing to the terrain.
Athough there are many good ways to ski a particular slope, it's going to be easier if you match your skiing to the terrain. In other words, it's best to choose an appropriate skiing approach that will match the slope shape, gradient and features. For example, let's say you are skiing a wide open slope which runs down to a narrow, steeper section.  In this situation, it's wise to use longer, more energy conserving turns on the wide open slope, then time a smooth transition to shorter more energetic turns for the steep and narrow section. In this way, you will be matching your skiing appropriately to the terrain changes as they happen and saving your energy for when you need it.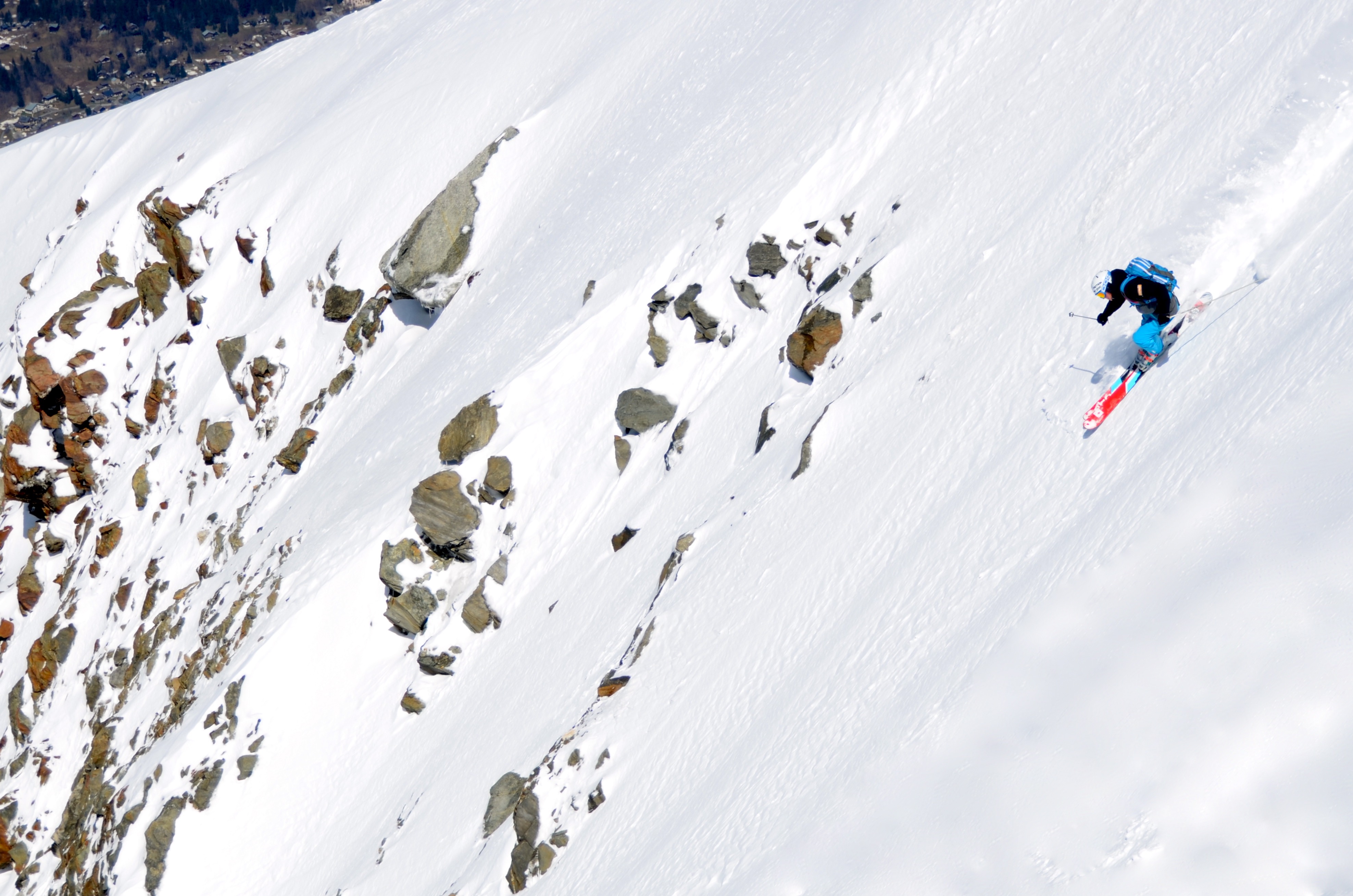 Join Mark on an All-Mountain Performance Ski Course. Check out the different levels and dates here: