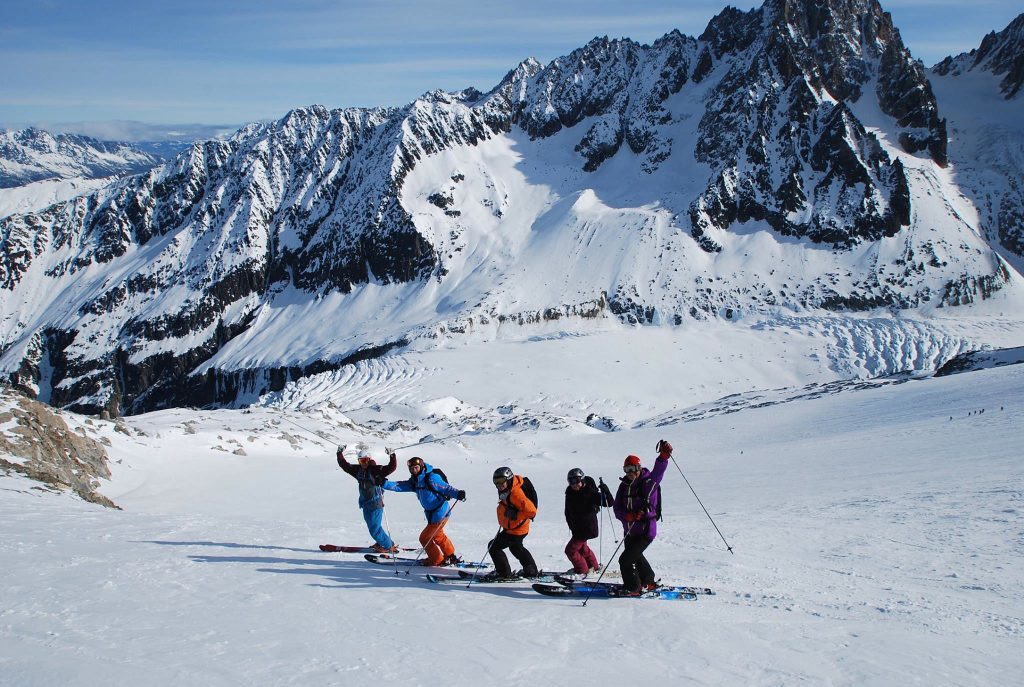 Guardian travel writer, Gwyn Topham came to Chamonix to learn to ski off-piste with All Mountain Performance on our 5 day Intermediate, off-piste ski course. Despite going home with weary legs, Gwyn made massive progress with his skiing over the course run by Mark Gear.

Here is the article that tells his story of how he learnt to ski off-piste with us in Chamonix.
Learning to ski off-piste in Chamonix
Chamonix is one of the world's best off-piste resorts, a great place for intermediates to take a course in skiing powder.
"What we're looking for," says Mark Gear, head coach of All Mountain Performance, "is skiing without boundaries". Mark embodies ambition: he started his skiing career handing out boots at Beckton Alps, east London's old dry slope, before becoming a giant slalom racer in Chamonix. His business card pictures him skiing a turn so fast I thought it was someone falling over.
Over five days, his intensive course promises to hone the technique of intermediate skiers, to give us the confidence to handle all runs, and to teach the basics of skiing off piste with a view to mountain safety.
Chamonix is one of the world's most challenging and best off-piste resorts, and a great place for intermediates to learn to ski powder. We start on blue runs above Le Tour, the least vertiginous of Chamonix's four ski areas, focussing on elements of turning: pressure, edge, rotation. Basic, but a proper understanding of these fundamentals is, Mark says, crucial to progress off piste. And he quickly identifies how one thing I had thought essential – thoroughly bending your knees – is overdone to the point of unnecessary pain and loss of control.
The deficiencies in my technique are made woefully clear at the end of each day, when we watch videos Mark has shot of us skiing. The others look good: Beth apparently needs to angulate her body more, while Ishbel has a technique so graceful that Mark struggles to find fault. And then comes a figure in a bulky jacket, hunched over with legs splaying out, like a badly erected wigwam battered by a storm.
My illusions of speed and finesse are dead; I don't know what I can do to improve, bar ditch the bobble hat. But Mark has kind words: the worst skiers can make the biggest improvements. I need to begin by straightening up, standing taller and keeping my errant legs together.
And it starts to work. With only three students (the maximum is six) we get a lot of individual attention. By the second day we are skiing some off piste and doing a tricky black run home from Le Brévent; on the third morning we manage a high and steep ungroomed black run on Les Grands Montets, turning over moguls and deeper snow.
It's a good course to do if you're alone, mixing daytime sociability with relaxed evenings: back in the resort, I want to do little other than eat and crash at the chalet, run by Collineige, whose chefs are plucked from some of Australia and London's top restaurants – even a banana cake at afternoon tea comes with a personalised flourish of, I was told, "an Earl Grey-infused crème anglaise". By Wednesday, when I reluctantly leave chef James's cooking for one of Collineige's central self-catered apartments, après ski has become nothing more than a quest for food, a hot bath, and an 11-hour sleep.
In Chamonix, a notoriously steep resort that draws experts in, it is sometimes hard to feel sure of my progress. Yet I'm feeling comfortable on terrain I would never have ventured on before, and the video evidence is encouraging: still no Ski Sunday, but the gap between my imagined appearance and reality is narrowing. Mark replays one of my turns in slow motion, and cries "Stylish!" Nothing could have made me prouder. By the penultimate day, alas missed by the cameras, I produce a deft, slaloming run through deep snow and trees. All I need, it seems, is an immovable object ahead to make me learn to turn quickly.
On the final afternoon we ski gullies, untracked snow, moguls, steep and bumpy off-piste narrow black runs, and long, soaring, carving turns down broader pistes. "Relax, play around!" Mark shouts. Despite legs so tight and weary that they no longer do my head's bidding, I feel I'm finally getting there. Then, on the very last run of the week, our brilliant instructor is taken out by a snowboarder who careers wildly into the back of him, on an empty slope. It's a chance for Mark to deliver a final, rueful lesson: "Sometimes, off piste is the safest place to be."
---
To view the article on the Guardian website, please follow the link below
http://www.theguardian.com/travel/2009/nov/07/skiing-off-piste-course-chamonix-france