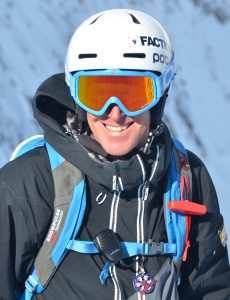 BASI Ski Instructor, Highest Level 4, ISTD (International Ski Teacher Diploma)
Full French Equivalent (Ier degree ski alpin)
European Speed Test Holder (GS Eurotest)
Level 3 Mountain Safety
Alpine Performance Coach
Sponsored by – FACTION
Mark Gear is one of the World's leading off-piste ski instructors.  He is qualified to the highest international standard (BASI 4, ISTD) and has many years of experience teaching all-mountain skiing in Chamonix and across Europe.  He also has the full French equivalent ski instructor diploma, (BEES I Ski Alpin) and is one if the few to have passed the notoriously difficult European, GS speed test in France.
His innovative, fun and professional ski teaching focuses on client's personal goals.  This includes a unique methodology to encourage control, versatility and individual skier expression!
Mark spent his teens skiing, racing and teaching on a dry ski slope in Essex before moving to Chamonix, France in 1995.  After intensive training and a rigorous exam system, he became the first British qualified ski instructor to earn the right to work for a local French ski school in the resort of Chamonix.
Mark went on to found All Mountain Performance in 2004.  Offering his approach to modern ski teaching and specialising in off-piste performance ski courses, he has helped to open the world of all-mountain & off-piste skiing to thousands of skiers.
As well as coaching the recreational public, Mark is also involved in training professional ski instructors, skiing competitors and other mountain professionals.  His ski coaching approach has earned him a renowned reputation for acheiving excellent results.
SKI LEVEL FINDER PRICES BOOK SKI COURSES BOOK PRIVATE LESSONS