Modern Ski Art by Mark Gear.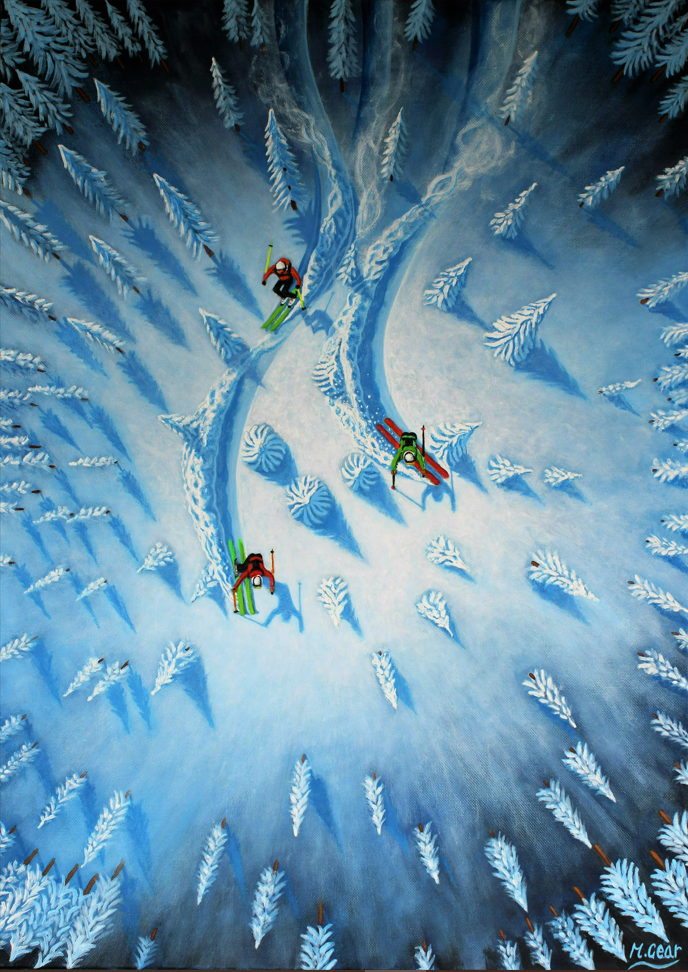 Ski Painting: Magic Forest
I'm Mark Gear, artist and international ski instructor here at All Mountain Performance. On this page, you can view my modern ski art collection or purchase any of my limited edition, high quality Giclèe art prints.
Based in Chamonix, in the heart of the Alps, when I'm not skiing, I love to paint snowy scenes and skiers in acrylics. I blend a unique and modern artistic style with my knowledge of the sport to create fun and colourful ski paintings on canvas.
Each fine art print comes with a signed and numbered certificate of authenticity. The prints include a thin white border to fit standard frame sizes. A matting can also be added to mount the print into even larger frame sizes if desired. The ski art prints are verified, colour-perfect reproductions of the original ski paintings.
The art prints are dispatched in 48 hours – printed and handled by Theprintspace who are International specialists in fine art printing. The art prints ship Worldwide, are carbon neutral and ideal modern art for skiing enthusiasts or someone looking for skiing wall art to display on a wall at home or in a ski lodge or ski chalet.
See the full modern skiing artworks collection below or go straight to my online store here:  https://artwork-by-mark-gear.myshopify.com/collections/all