ADVANCED OFF-PISTE SKI COURSES – MAXIMIZE YOUR POTENTIAL!
Off piste ski courses for advanced skiers in Chamonix, France.
All ski courses are delivered by elite British ski instructor, Mark Gear.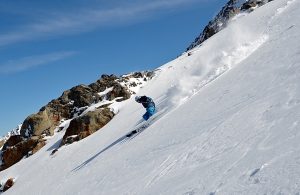 The advanced ski course is designed for advanced level skiers who already have the skills required to ski most off piste snow conditions. Typically, you can get around ok off piste, but are looking to consolidate & improve your general off piste skiing.
Off-piste skiing provides great variety of snow types and terrain. For this reason, we help develop your skiing in a versatile and natural way that will encourage better adaptability when skiing more challenging conditions.
The main focus of the advanced level ski course is on improving your personal, all-mountain skiing skills. This is done in a practical way and mostly away from the groomed slopes.  You will receive plenty of useful tips to teach you how to adapt your skiing. This will help you to cope better with the challenges of all-mountain and off-piste skiing.
Your skiing will improve during the course as you discover how your skis react to the movements and adjustments you make. As you progress, so will your confidence allowing you to ski more challenging snow and terrain.
During the advanced ski courses, we will ski some of Chamonix's best off piste and backcountry terrain accessible by the ski lifts. Sometimes, a short hike to the very top can provide us with a better descent.
Understand the most up to date skiing techniques and modern, freeride skiing tactics. You will receive a personalised ski coaching approach with daily video feedback in a small group of 6 skiers maximum.
On advanced ski courses, the following aspects of your skiing are developed:
Personal performance awareness
Refinement of Steering movements
Off-piste and freeride skills
Terrain, snow and line tactics
Technical and tactical skills for skiing steeper slopes
Technical and tactical skills for skiing gullies & couliors
Avalanche and backcountry mountain awareness
Week long and weekend ski courses available
The 2 day weekend ski courses are condensed versions of our 5 day courses. The aim of the weekend is to cover the major parts of the 5 day skiing course using a maximum activity approach. That means lots of great  skiing with tips and tactics for snow and terrain.
Ski Course Prices
5 Day Ski Course = 740€ Per person (course fee only).
Weekend Ski Course = 340€ Per person (course fee only).
Advanced ski course dates for 2018/2019 season.
Dec 8th – Dec 9th   (Weekend ski course)
Dec 17th – Dec 21st  (5 day ski course)  
Jan 5th – Jan 6th      (Weekend ski course) – Course Full
Jan 7th – Jan 11th     (5 day ski course) – Course Full
Jan 28th – Feb 1st    (5 day ski course) – Course Full
Feb 18th – Feb 22nd  (5 day ski course)
Mar 11th – Mar 15th   (5 day ski course) – Course Full
Apr 15th – Apr 19th     (5 day ski course)

SKI LEVEL FINDER PRICES BOOK SKI COURSES BOOK PRIVATE LESSONS